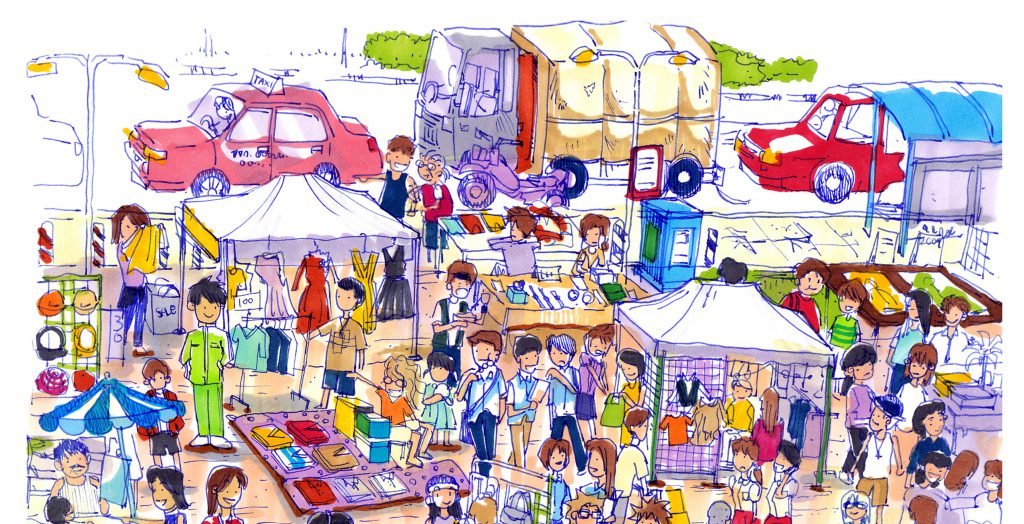 Thong Lo is a very lavish and local district located in the heart of Bangkok, Thailand's biggest and most vibrant city. This district is also referred to as Thong Lor and it's just right off the main Soi Sukhumvit Road 55. This is one of the many districts that not only has high-end air-conditioned malls, but also cheap and delicious street food. After having a fancy five-star lunch, you can grab a sticky coconut rice dessert off the street served in a styrofoam container. There's more that meets the eye when walking through the large district of Thong Lo.
Street Food Delicacies at the Thong Lo Market
With Thong Lo catering more to local socialites of Bangkok, you'll find more supermarkets and coffee shops rather than wholesale markets. Yet, the street food scene is still very popular in this neighborhood. One of the best street foods found in the Thong Lo district are Kanom Krok. These small circular puffs are coconut hotcakes that you'll want to continue eating. The food vendors make them on a small black stove with round holes perfect for putting adding the sweet batter and frying them.
Another popular street food snack is the sticky coconut rice and mango dish called Kao Niow Ma-muang. This dish is made with long white rice and sweetened with coconut milk. Fresh slices of the ripest mangoes you'll ever try are added as a natural sweetener. This is a heavenly dish that many Thai locals and foreign visitors enjoy eating as a quick snack or simple dessert. It's best to get it outside of a local fruit stand known as Ma Varee Fruit Store. The fruit store is the first one located down from the Skytrain line.
Coffee Shops Galore at theCOMMONS
One of the most recent malls and marketplaces in the Thong Lo district is theCOMMONS complex. This giant complex serves as a local hangout and co-working space for freelancers and remote employees. You'll see many Thai residents and expatriates busy on their laptops as they sip on a chilled caffeinated beverage. If you are also someone who works online or you want to check your email in a trendy place, theCOMMONS is definitely a spot to check out. With so many cafes that have different and unique themes, your typical workday won't feel as ordinary as usual.
Shopping for Stylish Clothes and Imported Goods at J Avenue
Next door to theCOMMONS, you can't miss the grand mall called J Avenue. This is a great shopping place if you're looking for quality clothes that reflect the latest fashions. This mall is unique because it's one of the largest malls with a close community feel.
The mall is described as a "lifestyle mall," since there is everything from good food to amazing clothes. The clothing stores in J Avenue are only brand names that you would find in Asia. There are also helpful beauty shops such as hair salons and nail spas located within the mall. If you're looking for a local place to work out, there is luckily a gym on the fourth floor. It's easy to walk through the outdoor mall on a sunny day and window shop. You can also stop at the many restaurants and chains to grab a snack or even dessert. One of the popular dessert chains, After You, found throughout the city is also located at J Avenue. Get ready to fall madly in love with Thai desserts!
If you're trying to find a massive grocery store with Thai and Western foods, you should visit the Tops Market in Thong Lo. It not only has an expansive selection, but everything is fresh and there's a ton of variety.
Activities Found in the Thang Lo District
There are many fun activities to do in this area and opportunities you won't want to miss. Interested in taking a cooking class with a local? Wanting to explore the ARDEL Gallery of Modern Art? This is all found off the main strip of the Thong Lo district. Luckily, Centre Point Hotel has a comfortable location situated in the middle of these fantastic places and events. Be sure to check-in to one of our comfortable suits perfect for business travelers, families, and individuals. View more about our services and other friendly tips on our website.