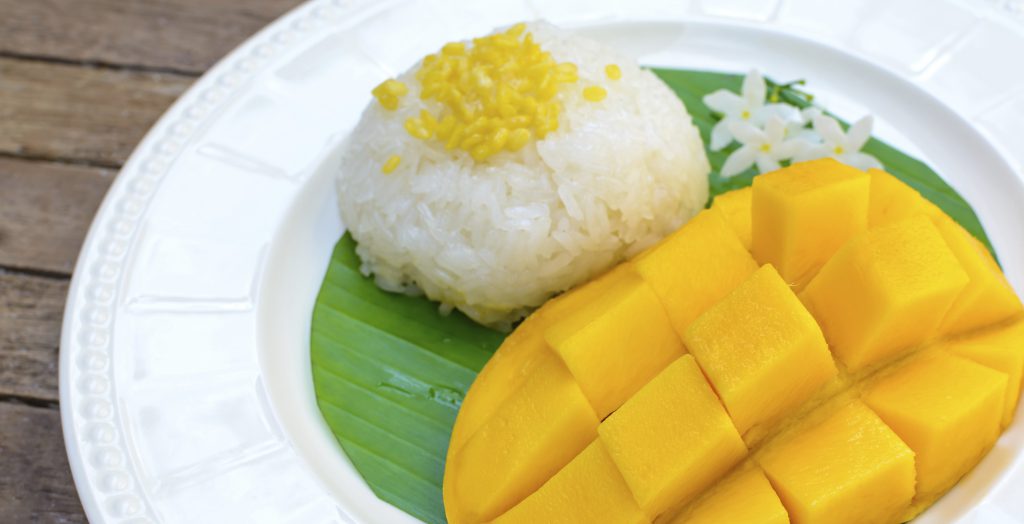 While you're visiting all the best sights and attractions the golden city of Bangkok has to offer, you'll probably get hungry and want to find the best place to eat. If it's your first time touring Bangkok, you will not want to miss out on the amazing street food that is offered on just about every corner. There are many food cart pods with a variety of vendors selling all sorts of tasty snacks and meals. The best part is that the food is all ridiculously cheap even though it is made from the freshest ingredients.
Thai cuisine is known to be super spicy, and sometimes they will not give you a choice on how mild you want your food. It is best to be prepared that your taste buds might explode from all the hot chili and curry spices. One of the best ways to cleanse your mouth from these flavors is by ordering a sweet dessert. There is no better dessert than the classic sticky rice with mango, also known as Khao Niew Ma Muang in Thai.
Khao Niew means 'sticky rice' in Thai while Ma Muang means 'mango.' The sticky rice that is used in this dessert is a common staple for many Thai dishes and desserts found throughout the country. To prepare the dessert, the sticky rice is cooked and then added to a mixture of coconut cream or milk and natural sugar. It is then garnished with thick golden slices of the ripest mango you'll ever have. The sticky coconut rice tastes like a tropical rice pudding while the soft mango provides a fresh and natural palate reliever. This is definitely one of the best Thai desserts on the streets and even in gourmet restaurants. You can't go wrong by ordering this dish and it's a favorite amongst locals.
If you're traveling with small children or your family and you're looking for a delicious snack or after dinner treat, Khao Niew Ma Muang is a great go-to dish. The sweetened sticky rice is soft and easy for little ones to chew, so you won't have to worry about your children choking or hating the dessert. The fresh slices of mango are also very healthy and you'll be assured that they ate a serving of fruit. Just be careful, Khao Niew Ma Muang is so good, they might not want to share with you and you'll have to get your own. Fortunately, a serving of Khao Niew Ma Muang won't cost more than $2 USD, so it will be less expensive than traditional Western desserts.
There are also several variations of this dessert served with additional toppings or different local fruits. One of the more popular toppings is mung beans, which are a common type of bean found in many Asian desserts. Mung beans can easily soak up sweet mixtures while providing a soft and creamy taste. This is a delicious topping with the mango sticky rice and provides a wonderful texture.
During durian season, Khao Niew Ma Muang is often served with small chunks of the creamy fruit. Durian usually gets a bad rap from the strong and pungent smell it gives off, but it provides the best texture that is soft and creamy. You should definitely try durian and give it a chance before leaving Thailand since it's a local delicacy. Often times Khao Niew Ma Muang is topped with sesame seeds, providing a unique and subtle flavor.
Khao Niew Ma Muang is so popular, it would be hard to miss this dish when visiting local food carts or eating at an authentic Thai restaurant. One of the best local districts in Bangkok is Thong Lo since not many tourists go there. Thong Lo provides the best places that are best kept local secrets. There are many cafes and food pods around the neighborhood making it one of the best areas to have mango sticky rice.
If you're interested in staying in one of the more original districts of Thailand, check out the serviced apartments at Centre Point Serviced Apartments Thong Lo. Not only is this an excellent choice for travelers planning to stay longer than a week, but it's great if you're staying with a large group or family members. We hope you have a fun trip in Bangkok, and be sure to try mango sticky rice before heading back home!