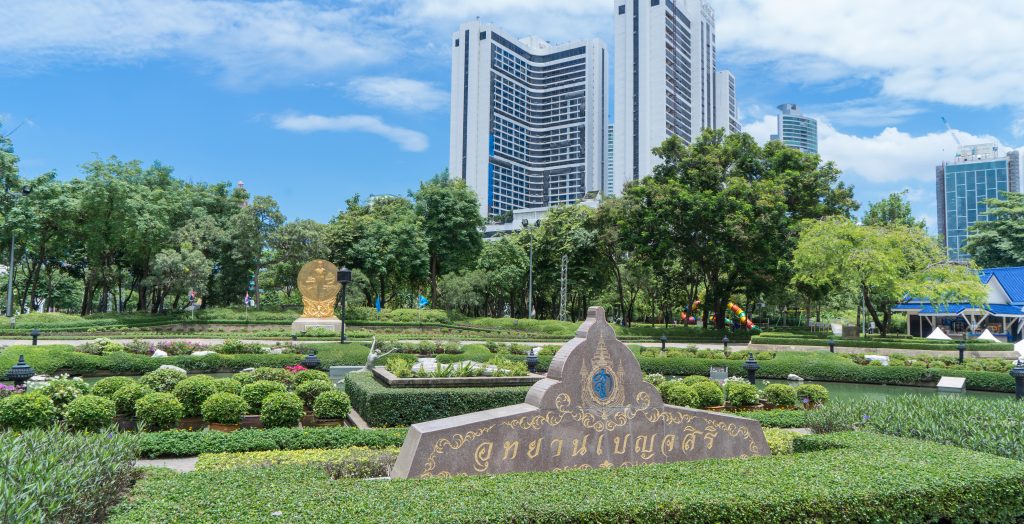 Bangkok is one of the most often-visited cities in the world. It's regularly listed as a top tourism destination. At the same time, it's also an important business hub – both for Thailand and for the whole of South-East Asia. Needless to say, there's a lot going on in Thailand's 'City of Angels'.
At Centre Point Thong Lo, we host an even mix of tourists, short-term residents and business travellers visiting Bangkok. Our guests are typically concerned with exploring the cosmopolitan offerings of the Thonglor neighbourhood,   and it's easy to understand why.   Thonglor has some of the best dining, shopping and entertainment venues in a city that's already well known for these offerings.
But what you may not realise is that Thonglor also has a few greenspaces that you can enjoy. Along those lines, we're dedicating a series of blog posts to the parks and gardens of Bangkok. And if you're staying at Centre Point Thong Lo, we're recommending that you set aside an hour or two to visit Banjasiri Park.
Benjasiri Park: A Hidden Gem in the Heart of Bangkok
First and foremost, Benjasiri Park is small. It occupies a mere five hectares near Phrom Phong BTS station. But it makes great use of this limited area. Whether you've spent the afternoon shopping at EmQuartier or are looking for a quick escape from your suite at Centre Point Thong Lo, this park has plenty to offer.
Benjasiri Park offers its visitors a breath of fresh air in a district that's otherwise known for its busy streets, booming shopping malls and soaring skyscrapers. But all it takes is a side-step into this compact haven with lush lawns and traditional, Thai-style pavilions to feel that you've escaped the clutches of city life.
Benjasiri Park Highlights
Small as it is, the park is fully equipped with broad gardens, children's playgrounds, badminton courts, a basketball court and a jogging path. It also features a manmade pond and a few modern-art sculptures around the periphery.
You'll be surprised by the vibrant atmosphere in this green oasis. Benjasiri Park is a popular place for local people to visit in the early mornings and late afternoons. You might see friends kicking a takraw ball back and forth, or groups practicing tai chi on the lawn. Likewise, you can also join outdoor aerobics classes here in the early evenings.
And even though the park is located next to Bangkok's lively Sukhumvit Road, there's still a surprising amount of wildlife in the park. Squirrels flit from one branch to the next whilst the pond is teeming with fish and turtles.
Visiting Benjasiri Park from Centre Point Thong Lo is Easy
If you're staying at Centre Point Thong Lo,  visiting Benjasiri Park is easy.   We provide our guests with a complimentary tuk-tuk shuttle service to the BTS Thong Lo station.  And from there, it's a quick transfer to Phrom Phong (only one station away), where you can disembark and quickly walk to the park. Please let us know if you would like any help arranging transport.