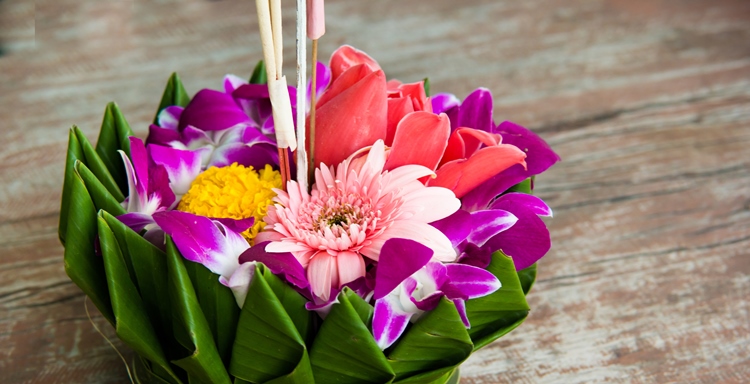 There's not a year that goes by that Thai locals miss celebrating Loi Krathong. Loi Krathong is one of the biggest celebrations of the year! Mostly celebrated by countries in southwestern Asia, Loi Krathong is celebrated in various ways. The festivities take place every year on the full moon of the 12 month (according to the lunar calendar). It usually takes place sometime in November and this year, in 2017, it will be held on Friday, November 3rd.
If you're planning to be in Bangkok around this time, be sure to stay for Loi Krathong. We've created a guide explaining the origins and where to celebrate this unforgettable event.
The True Meaning of Loi Krathong
The words Loi Krathong essentially provide the overall title and details of the celebration. Loi Krathong pretty much translates "to float a small container of leaves." The leaves are ambiguous but are mostly referring to banana leaves or other water resistant leaves. Nowadays, people either make boats out of paper, banana leaves, or they simply buy one from one of the many vendors at the venue. Making a boat out of banana leaves is the more traditional way but you can easily make one out of any other water resistant material.
On the night of Loi Krathong, everyone takes their floating vessel to the water and send it for an evening cruise. While the moon is full, everyone lights a candle, places it on the boat, and makes a wish for the new year. The ambiance from all the candles lit is a majestic one and there is a point where the silence fills the air. Everyone delights in the fiery glow that reflects across the water.
The original celebration of Loi Krathong is said to have come from a ceremony that pays respects to the river spirits. Many locals still to this day put coins or pieces of food as an offering and gift for the water gods. This gracious offering shows utmost respect toward the natural divine.
Where You Should Celebrate Loi Krathong in Bangkok
Having you been trying to find a great location to celebrate Loi Krathong in the capital city of Bangkok? Luckily, if you're planning to be in Bangkok on Friday, November 3rd, you will not miss your chance in joining in on the festivities. There are many different options to choose from, but if you're looking to celebrate with locals, you should head to Benjasiri Park.
Benjasiri Park is a well known park in the Thong Lo district. The Thong Lo district is home to many Bangkok locals, including expats and foreigners. One of the best features it provides, which is also why it's a great location for Loi Krathong, is the fact that there is a big pond in the middle of it. This makes it ideal for floating your boat on the water with everyone else. Since it's more of a local hang out spot, you'll be able to meet many people and eat amazing street food from the vendors.
Thong Lo is a nice trendy area and there are plenty of exquisite places to visit around Benjasiri Park. One of the best malls in Bangkok that is located right behind the park is The EmQuartier. People from all around the world travel to Bangkok to shop there for the best deals and latest fashions.
Where to Stay in the Golden City of Bangkok
          Haven't booked your stay in Bangkok yet? No worries, you still have some time. Keep in mind, the closer you get to Friday, November 3rd the less options there will be. So be sure to book far in advance!
Here at Centre Point we offer some of the best rooms in the city at an affordable rate. Luckily, our Thong Lo location is very close to Benjasiri park. This would also be the best option if you are looking to book a longer stay and needed a several week or month-long rental. Take a look at the different rooms we provide and contact us if you have any questions or want more info.
Have Fun and Never Forget to Make Your Wish!
We are hoping you have a great time in Bangkok and that you enjoy your first Loi Krathong!